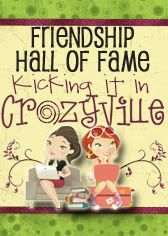 It's my turn this week! In honor of friendship, I nominate my friend, Amy, for this weeks friendship award. Amy & I have been friends since we were 5. We met in kindergarten. In fact, after that first year in class together, the school never put us in the same class again. I guess we were pretty naughty that first year!
Amy is one of those life long friends. I know that wherever life takes either one of us, she will always be there. I can count on Amy to drop everything when need be, to be that shoulder to cry on and to always be honest with me. My childhood is intertwined with her and her family. Her family became my family.
Amy has a knack for remembering everything, even when you wish she would forget it. She never fails to bring up some memory that has been long forgotten (or, I assume has been long forgotten). She's the life of a party.
I am thankful for Amy and for the friend she is to me. Thanks Amy, for everything you are! I love you!
Remember girls:
In the spirit of celebration for these God-given relationships, Reese and I are beginning the Kicking It In Crazyville Hall of Fame. Every Monday we will be awarding a new award to friends that you all nominate! To nominate a friend, please:
Email us at kickingitincrazyville@gmail.com with your name and the name of your Friendship Hall of Fame nominee. Include as much of his/her name as you want published (we recommend only a first name and last initial), and a link to his/her blog, if they have one.

Please state why they deserve this award, including as much background information on the relation ship you want. Please include how you met and what has kept your relationship going.

Include a picture if you wish.

We reserve the right to edit all entries for grammar, spelling and length. Otherwise, we will do our best to publish all that you include with your nomination.
The weekly winner will receive the friendship Hall of Fame button to put on his/her blog, if they have one, and a warm fuzzy feeling for being singled out as a stellar friend!We look forward to reading all about the beautiful friendships that have blessed your lives!