I've been a champion time-waster this week. I'm usually somewhat motivated to get back into my routine once Monday hits and the kids go to school and Tim to work. But this week Kristine was home sick until Thursday, and that threw me off. I don't know why, but it always does.
Then, the couple we invited to dinner this evening rescheduled for next week. I had been all geared up to get the house in tip-top shape for our first real visitors since we moved in here, but with that put off for another week, the urgency fled.
So, I've spent a lot of time on eBay, listing a few items for sale. I am selling some maternity swimsuits I never used, a baby carrier, and some books. I think I'll be able to bring in about $50. I guess that makes my time on eBay fairly productive.
Also,
MySpace
has proven to be not only a brilliant way to stay in touch with people, but also a first rate way to wile away entire afternoons in what seems like mere minutes. Tim came across an old Christian band we loved as teenagers-
VERSUS
- on MySpace, and I had to follow his example and ask all the band members to be my friends. Heather was as familiar with VERSUS as Tim and I were, and she was so happy to find them on MySpace she actually switched her MySpace mood status from "lethargic" to "giddy"! (Imagine how excited she's going to be when she sees she's on the band's "top friends" list! She may not even need a Pepsi today.)
I've been baking a lot too. I've made English tea sandwich bread, olive bread, lemon cake, cupcakes, cookies. Today I made 2 loaves of Irish potato bread:
It looks a little funky because I was trying to make it look like the picture in the recipe book:
As you can see, the one in the book is Old World artistic, mine is funny looking. It's okay, though, because theirs couldn't possible have tasted better than mine. It was delicious!
I wasted a bit of time making a couple avitars of myself. That was amusing. Only, here on the blog they seem to be stuck and not doing their whole dances.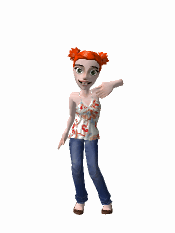 And my Mt Dew drinking one: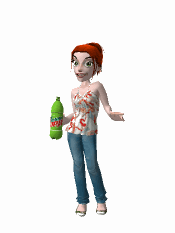 I am beginning to feel torn as to how to spend any free time I have. It used to be reading, then baking, then photography, now I'm still interested in all those things, but I'm also taking an interest in knitting and crocheting. I'm taking a crochet class that starts Monday. (There's also a Photoshop class and a photography class coming up that I plan to sign up for.) I started making sugar body scrubs last year- way fun and a super way to save money while getting the kind of product I want. Then, my mother-in-law, who's the one who got me interested in sugar scrubs, has sparked an interest in making jewelry. I still don't know what I'm doing, but I have taken up raiding the jewelry-making section at the on base craft store. A few days ago I made my first sterling silver and crystal earrings. They were really easy and I'm not even sure I made them correctly. (The lighting wasn't very good for this picture.)
I gave them to Kristine for her birthday. She was happy about it!
I finally got to cleaning my house today, beyond the dishes and laundry. My landlord is expected tomorrow- as every weekend- to continue working on the patio in my "garden". He always takes a couple of breaks throughout the day and comes in for a spot of tea! That, and with a few trips to the loo, he'll be in the house. Finally! A visitor to clean for!
So, that's my week in a nutshell.
And that's all I have to say about that.
~Reese